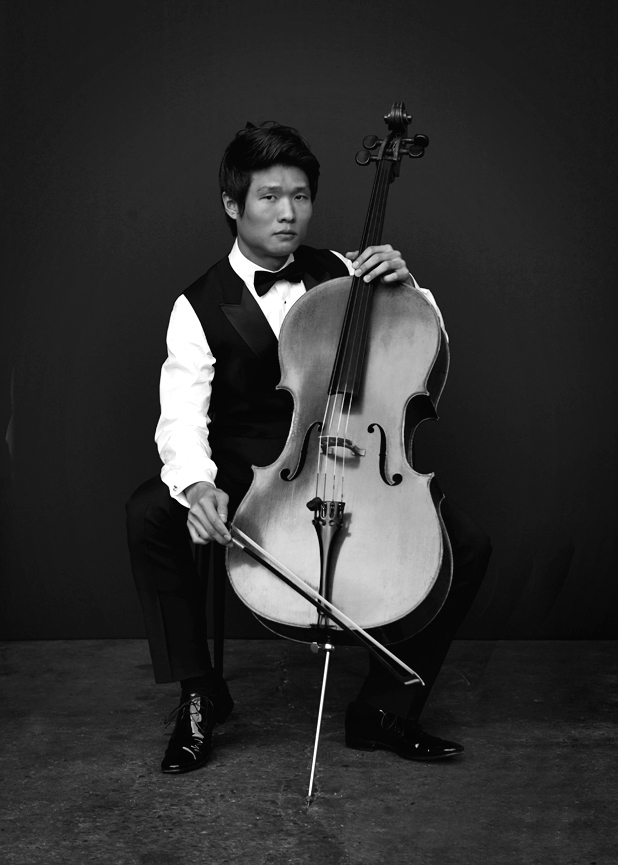 Top prizewinner at numerous competitions, Han Bin most recently won the Second Prize at the 2013 Young Concert Artist International Auditions as well as the Third Prize and special award for the Best Performance of the Chinese Composition at the 1st International Schoenfeld Cello Competition in Hong Kong. In May 2011, he was awarded First Prize in the USC Thornton School of Music's Concerto Competition, and in December 2011, he won the school's Inaugural Performance and Presentation Award. Following these awards, Han Bin performed the Dvorak Cello Concerto with the Thornton Symphony, under the baton of maestro James Conlon, and gave a series of recitals, talks, and master classes throughout Southern California in 2012.
Born in 1988, Han Bin displayed signs of exceptional musical talent already in childhood. Within less than a year of picking up the cello, he won his first competition and made solo appearances with the San Diego Youth Symphony.
Han Bin has most recently appeared as guest soloist with orchestras including the Springfield (MO), Torrance, Palisades, Brentwood and Huntsville Symphonies. He has performed with the Los Angeles Violoncello Society, and he was also chosen as one of two classical instrumental finalists in the Los Angeles Music Center's Spotlight Awards competition, subsequently performing in the PBS-broadcasted gala concert at the Dorothy Chandler Pavilion. In spring 2012, Han Bin took part in the inaugural Piatigorsky International Cello Festival, the International Musicians Seminar Prussia Cove (U.K.), and the Académie Musicale de Villecroze (France), working privately with renowned cellists Steven Isserlis and Frans Helmerson.
A devoted chamber musician, Han Bin has performed in such summer music festivals as the La Jolla SummerFest, Sarasota Music Festival, the Yellow Barn Music School & Festival, and the Chamber Music Workshop at the Perlman Music Program. He has worked closely with prominent artists including Itzhak Perlman, Anthony Marwood, Donald Weilerstein, Paul Katz, Roger Tapping, Peter Frankl, Boris Berman, Susan Narucki, and members of the Cleveland, Juilliard, Orion and Tokyo String Quartets. In 2008, he garnered the Borromeo String Quartet Guest Artist Award, leading to his collaboration with the Borromeo Quartet in a performance of Tchaikovsky's Souvenir de Florence in Boston's Jordan Hall.
Han Bin Yoon is the recipient of the 2010 Korean Honor Scholarship for exceptional musical talent. He has also received scholarship support from the Léni Fé Bland Foundation, Ruth Cole Weber Foundation, and the Pacific Palisades Westside Committee of the Los Angeles Philharmonic. During his four years at the New England Conservatory of Music (Bachelor of Music, 2010), he was awarded the Presidential Scholarship, the most prestigious scholarship bestowed by the NEC.
Han Bin Yoon has worked with such renowned cellists as Bernard Greenhouse, Frans Helmerson, Steven Isserlis, David Geringas, Anner Bylsma, Eleonore Schoenfeld and Paul Katz. He currently studies with Ralph Kirshbaum at the USC Thornton School of Music.
Mr. Bin will be performing the Dvorak Cello Concerto with the PCO on May 16th, 2014.