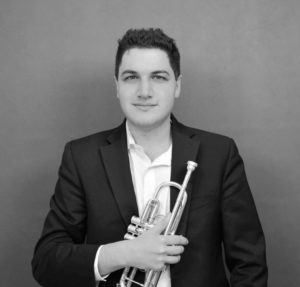 Since his arrival in Los Angeles, Dr. Cameron Ghahremani has performed on a variety of shows and orchestral performances. He has worked with professional bands accompanying multiple musical productions with the American Musical and Dramatic Arts Academy, Cupcake Studios and Musical Theatre West. In addition, he has performed with the Westlake Village Symphony, Golden State Pops Orchestra, and the acclaimed contemporary chamber orchestra, Kaleidoscope.
While a member of the selective Henry Mancini Institute Orchestra, Cameron has shared the stage with such world-class guest artists as Maria Schneider, Dawn Upshaw, Rafael Padron, Ben Folds, and HMI's new artistic director, James Newton Howard. The HMI Orchestra was part of the University of Miami's Frost School of Music where Cameron received the Doctorate of Musical Arts for Trumpet Performance. At Frost, Cameron was awarded a teaching assistantship where he conducted private lessons and coached the Frost Trumpet Ensemble which reached the semi-finals in the National Trumpet Competition for both years and won 2nd place for Large Division in 2015. During his time in Miami, Cameron performed with prestigious musical ensembles such as the New World Symphony, Miami Symphony, and Orchestra Miami. Prior to Miami, Cameron studied at the McGill University's Schulich School of Music in Montreal, where he received a Master's degree in Orchestral Performance. During that time, he studied extensively with acclaimed pedagogue, Edward Carroll. In his first year at McGill, Cameron was invited to attend the Royal Northern College of Music Festival in the United Kingdom. In Manchester, he played in concert with RNCM's top brass students and solo performed in a masterclass conducted by legendary virtuoso Håkan Hardenberger.
Cameron began his collegiate studies at the Eastman School of Music where he studied with pedagogue James Thompson. Upon receiving his Bachelor's in Performance, Cameron was awarded the Sidney Mear Trumpet Prize as recognition for his achievements throughout his undergraduate degree. Cameron is currently an instructor at the San Marino Music Center in Pasadena and is working as a freelance trumpet player in Los Angeles.