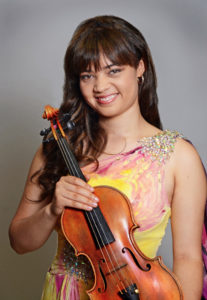 American violinist Annelle Kazumi Gregory is a laureate of international competitions, concert soloist, and recording artist. She is the 1st Prize & Audience Choice Award winner of the 2017 National Sphinx Competition and Laureate of the 2013 Stradivarius International Violin Competition.
Annelle's love of Russian music has led her to discover and revive forgotten works of great Russian composers, presenting these works in concert and in recordings. In 2017 she released the first-ever CD of Sergei Rachmaninoff's complete violin/piano works, recorded with Russian pianist Alexander Sinchuk (Bridge Records). The CD has received international acclaim and aired on radio stations across the U.S. and Europe. Her most recent project was the recording of little-known works by Rimsky-Korsakov and Taneyev with conductor Dmitry Yablonsky and the Kiev Virtuosi Symphony Orchestra, to be released by Naxos in 2019.
As a soloist, Annelle has performed with the symphonies of Houston, Detroit, Chicago Sinfonietta, Kiev Virtuosi, San Diego, Nashville, Santa Monica, La Jolla, and the California Chamber Orchestra, working alongside such conductors as Mei-Ann Chen, Robert Franz, Tomasz Golka, Andrew Grams, Ken-David Masur, Anthony Parnther, Thomas Wilkins, and Dmitry Yablonsky. She has performed in such venues as Carnegie Hall, Walt Disney Hall, and the Kennedy Center, as well as abroad in Azerbaijan, England, Germany, Portugal, Russia, and Ukraine. She has been featured on BBC, NPR, KUSC, and WQXR radios as well as on German television and Detroit PBS.
After graduating from high school at age 16 with honors, Annelle graduated first in her class, summa cum laude from USC's Thornton School of Music. Her teachers have included Michael & Irina Tseitlin and Glenn Dicterow. She was awarded the 2017 Isaac Stern Award and the 2014 Glenn Dicterow Music Scholarship and has received scholarships from the Musical Merit Foundation and the League of Allied Arts. Other awards include 1st Prizes in the 2017 "Grand Prize Virtuoso" International Competition, the 2017 NANM National Strings Competition, the 2016 American Protégé International Concerto Competition, and the 2017 Beverly Hills National Auditions. She was a featured soloist for the 2018 International Easter Festival (Kiev Conservatory), the 2017-18 Sphinx Virtuosi National Tours, and the 2016 iPalpiti Festival of International Laureates, and in 2013 opened for the Moscow Ballet, performing a solo with the principal ballerina.
In addition to violin, Annelle also performs on viola and has played piano, drum set, guitar, and bass guitar and performed tap, jazz, flamenco, and Japanese classical dance. In her spare time, she enjoys reading Russian classics, cooking, and playing with her two cats.